THE KUDOS WAY
As a registered provider of support under the NDIS, we offer a wide range of services for children (7+) and young people, providing a one-stop-shop for assessment and care planning as well as therapeutic services.
Community-based approach
'No matter where, Kudos cares' is our community-based approach in South Australia – Adelaide Metro and Country (Whyalla & Port Augusta) – we support our clients in their home, community or in our offices, and we can also provide adapted therapy sessions via video-chat and on the phone.
Genuine care
You know the African proverb 'it takes a village to raise a child'? Kudos Services version is 'it takes a #CommunityOfCare for children and young people to feel supported, have positive experiences and live a good life.'
Specialisation and knowledge
To support our clients on achieving their goals, we use the collective knowledge and experience of Kudos' high skilled & multidisciplinary team of occupational therapists, speech pathologists, physiotherapists, psychologists, social workers, developmental educators and positive behaviour support practitioners.
Our team is prepared to handle complex cases, with years of experience driving our service-with-heart.
Partnership approach
We enjoy working in partnership with clients and their families, their community, and other members of their support network.
Specialist Services
Kudos Services offers the following specialist assessment services:
Therapy
Positive Behaviour Support
Specialist Support Coordination
Coordination of Supports
Therapy Team
We work together as a team, building relationships, assessments, and interventions to help achieve goals and to evaluate how everyone involved is experiencing the service and the benefit of their therapy and support.
As an organisation who values evidenced-based intervention, our therapists and practitioners are supported by a skilled group of in-house clinical experts for coaching, training and supervision.
Meet the TEAM.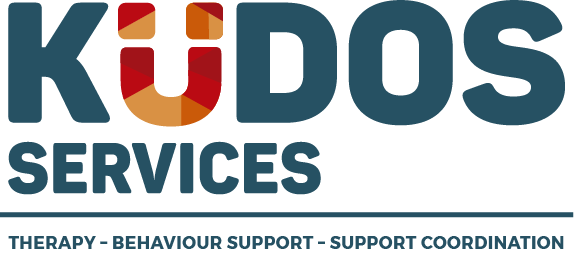 They've become family. Thankyou…thankyou for everything. Even though my household is one crazy household, she still comes.
Melissa, mum of Kudos client Curtis (9 years old)
Thank you for the Kudos Services for helping us and teaching Bidya every type of accents and even the pronunciation, even coping activities, how to cope with others.
Hem, dad of Kudos client Bidya (11 years old)
Kudos Services is a community of allied health professionals providing specialist therapeutic supports for people with a disability from 7 years of age. Contact us today.
Get in touch